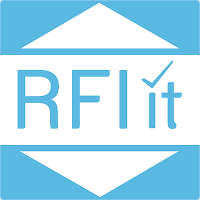 Innovative Structural Engineering is proud to announce the release of our latest industry support tool. RFI-it is a simple and easy to use mobile app that will allow users to quickly and accurately create RFI's directly from their smart phone or tablet device. It has always been our core principal as an SE firm to make the design and construction processes as efficient as possible for our clients and their subcontractors. RFI-it will enable our clients to improve communications between field and office staff and increase response times for all the varied types of RFI's that are generated during a project.
With the RFI-it app, you no longer have to wait to get back to your job site trailer or desktop computer to send out a proper RFI. RFI-it will allow you to do the following:
Quickly and easily create and share legible RFI's directly from your smartphone or tablet device
Take and attach photos of your field condition or plan section directly to your RFI
Make redlined comments or highlighted areas of the photo for further clarification of your issue
Save the completed pdf to your device for future access
Send as an attachment via traditional email
We welcome your feedback. Have an idea on how we can make this better? Or, perhaps an altogether new idea on how to improve design and construction processes? Contact us today! We are committed to the continued growth, improvement and success of the building industry.